BEST RATES AND BONUSES FOR ALL DIRECT BOOKING VIA OUR WEBSITE
Book a holiday in our luxury California hotel and get the best prices.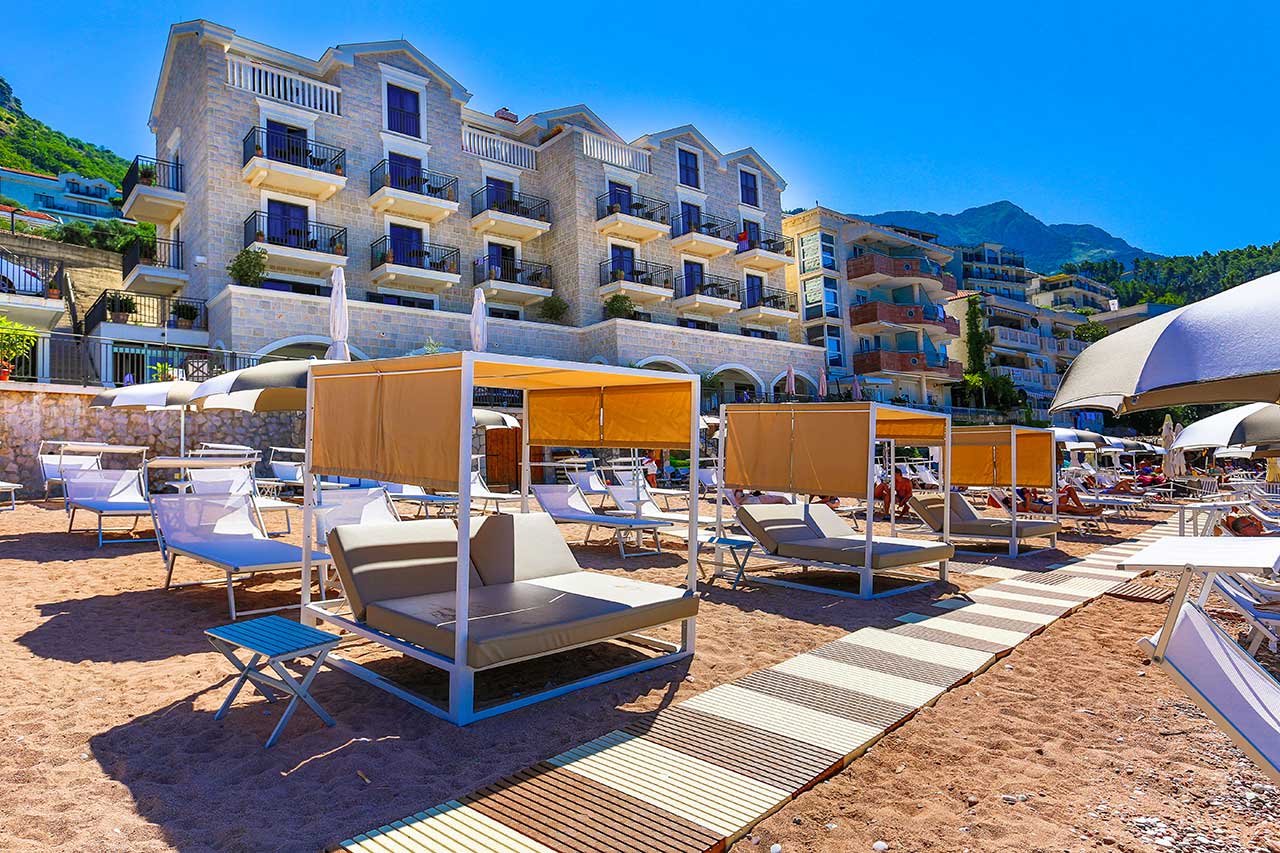 Located along Montenegro's scenic Mediterranean seaside coast in the Sveti Stefan resort, Hotel California is a one of a kind, small luxury 5* beach front hotel. It excels in pampering its guests with hedonistic services and facilities for a top-notch and affordable beach holiday for adults and children over the age of 12.
Nestled in between nature's marvelous Montenegrin mountains and pristine Mediterranean beach overlooking the Sveti Stefan Peninsula, Hotel California offers a five star experience at unbeatable costs for every budget.
Hotel California 5* offers apartments and twin or double rooms with some of them overlooking the beach and Adriatic sea.
The world-famous Sveti Stefan beach is just a stone's throw away from our hotel. We have our own private beach dedicated to our hotel guests. Beach access, along with all accessories (umbrellas, towels, sunbeds) is free for our guests.
Offering you a mesmerising view of Montenegro's greatest gem - the island Sveti Stefan, our rooms are designed with great attention to detail, in order to make your stay as comfortable and memorable as possible.
Their modern, yet sophisticated design is done trough a palette of colours complimenting the colours in its natural surrounding. This helps to achive a harmonic and tranquil atmosphere for a true holiday.
SMALL DOUBLE ROOM WITH MOUNTAIN VIEW

---

STANDARD DOUBLE ROOM WITH MOUNTAIN VIEW

---

SUPERIOR DOUBLE/TWIN ROOM WITH MOUNTAIN VIEW

---

DOUBLE ROOM WITH SEA VIEW

---

DELUXE DOUBLE/TWIN ROOM WITH SEA VIEW

---

QUEEN DOUBLE ROOM WITH SEA VIEW

---

FAMILY ROOM WITH SEA VIEW


---

DELUXE SUITE WITH SEA VIEW


---

JUNIOR SUITE WITH MOUNTAIN VIEW

---
Of all the sights along the Adriatic shoreline, Sveti Stefan is the most extraordinary. That's why it has unsurprisingly been named as Montenegro's most photographed site.
Sveti Stefan was an island but is now connected to the mainland by a narrow isthmus. The island has a 2-kilometre (1.2 miles) coast line located in the central part of Montenegro's Adriatic coastline. It is situated to the south of Budva between Pržno and Sveti Stefan villages. Nearby you can find the famous pink sandy beaches of Sveti Stefan, Milocer Beach, and Queen's Beach.
Sveti Stefan is also the name of the township that's sprung up onshore. From its steep slopes, you can admire the iconic island.